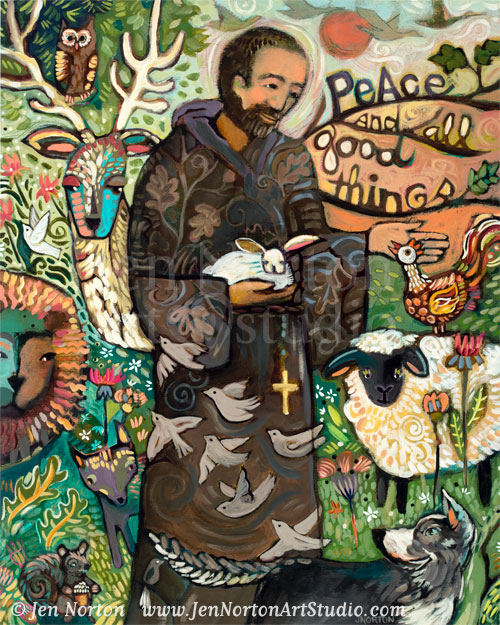 There's just something about Saint Francis a girl like me, born a Catholic in the hippie era of the 1960s, has to admire. He was the ultimate tree hugger, free spirit, lover of the poor, always bearing hardship with the artistry of a smile and a song. But he wasn't always the gentle animal lover we see in pictures. Like most of the Catholic saints, he started out just a regular guy, flawed and imperfect like the rest of us. As a young man, he had the promise of his family's wealth and a father who expected him to continue in the family business. He was popular, spoiled, self-centered and enjoyed partying it up with his friends. He was a dreamer who didn't do very well in school and who set off to win fame and glory by fighting for his home region of Assisi against Perugia, no doubt captivating damsels in distress along the way. Sounds like a typical teen boy.
But in the words of the late John Lennon, "Life is what happens to you while you're making other plans." Life happened to Francis. He was imprisoned for a year in the Perugia war. Bummer. Returning home he intended to step back into his carefree life, but contracted a serious illness instead that caused him to face a spiritual crisis. Another bummer. Upon recovery, he tried one more time, enlisting in the Crusades and bravely marching off decked out in the finest haute couture war garb money could by. He was going to be a hero, come hell or high water!
But again, God had other plans. Dang. He barely left town before he had a dream in which God told him he was wrong and he must return home. It must have been some dream because he obeyed, attracting the ridicule of his friends. That decision was the beginning of a slow conversion through prayer and reflection. He lost his desire for his old way of life, seeing it for all its shallowness. One day, while praying in the ruins of San Damiano, he heard Christ on the cross clearly tell him to "repair My church". God rarely reveals His entire plan up front, knowing we'd never agree to it! Francis only thought this meant to rebuild the ruined San Damiano chapel, so he sold fabric from his father's business for supplies and began his work.
His father, never a fan of the churchy set, accused him of theft and brought him before the bishop. The kind and merciful bishop simply asked Francis to return the money and all would be provided. Francis not only returned the money, but he renounced his family, all his worldly possessions and his claim to any inheritance. He began to live like a joyful beggar, preaching to all who would listen about returning to God and obedience to the church. He lived in poverty not to abolish it, but to make it holy; to find freedom in it. In his words:
"What can you do to a man who owns nothing? You can't starve a fasting man, you can't steal from someone who has no money, you can't ruin someone who hates prestige."
That should be of some comfort if you ever feel "less-than". As it turned out, others were also eager for change and enticed by his simple and happy manner. One thing led to another and before he knew it, he had about 5000 followers and found himself in front of the Pope pleading for approval for his growing brotherhood. At another time he traveled to Syria, meeting with the Sultan in hopes of converting him to end the Crusades. Not only did he live to tell about it, but he impressed the Sultan who remarked, "I'd convert to your religion, which is a beautiful one, but both of us would be murdered."
God continually cleared the way for Saint Francis to spread his message of peace in spite of human shortcomings. And Francis, once touched by the power of that Love, never lost his cheerful enthusiasm for life in spite of the hardships of poverty, illness, even blindness. He died in 1226 at the age of 45, but left us with a Franciscan legacy of holiness in simplicity. Did you know St. Francis is also responsible for arranging the first Christmas Creche? In the words of the American hippies of the 60s, "FAAAAAR OUT!"  Saint Francis certainly was!
Original: $800 (SOLD)
You can order custom prints in my Fine Art America shop here or by clicking the "Shop" tab above.
Matted prints made in my studio are also available in my Etsy shop here.