Aug 17, 2015: Catholic News Service. A feature on my "Blessed Junipero Serra" artwork published nationally in various Catholic periodicals at the onset of his canonization by Pope Francis on Sept 23, 2015.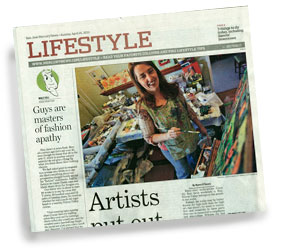 September 17, 2011: My painted Seed Library created for the Santa Cruz Reskilling Expo is featured in the Santa Cruz Sentinel.
April 25, 2010: Featured in the San Jose Mercury News and San Francisco Chronicle "Lifestyle" sections for Silicon Valley Open Studios. Story by Karen d'Souza. Link here.
May 8th, 2009: In an article about Silicon Valley Open Studios in the Silicon Valley Community Newspapers, yours truly was the cover girl! Story by Mary Gottschalk.
I was interviewed in my role as Art Director for Art of Possibility Studios for a segment on ABC7 News. April, 2009.
Featured guest on Comcast's syndicated show, The Painting Gourmet.January 2008.
"Q & A" with Ron Avilla, KTVU 36, April 2006: Interview to publicize Silicon Valley Open Studios.
"Visions Unlimited," KMTV, May 2005: I was interviewed with ceramic artist Daniela Abel and fiber artist Lise Poulson to showcase our work as well as Silicon Valley Open Studios.
NBC 11 Feature segment: I was selected for a feature on a local person who left a high-tech related field to pursue her dreams…in my case art! Thanks to reporter Garvin Thomas for not only making me look smart (if not thin!), but relating the importance of the survival of art to the survival of a culture. Click this link to watch:  JenNBC11_8_04
Art Calendar, November 2004: I was featured, along with artists Kerri Lawnsby, Cindy Blain, Sonya Paz and Christy Scherrer in this article about working art moms!
Evergreen Times, San Jose, Fall 2003: The Evergreen Times displayed a children's painting I did as a commission for a boy who was returning home after a long stay in the hospital. (see above, left)
Art by My Mother Group Show: Whitney Cultural Development Center, San Francisco, Summer 2003. I was part of a group show of seven Bay Area Artists/Working Mothers. The work featured the female form, with an emphasis by some of the work on breastfeeding in our culture.http://www.sfobserver.com/august03/art.html
Phantom Galleries: Winter 2003. I was one of many artists who have been working to turn vacant storefront windows in downtown San Jose into mini-galleries. Read the article by the Mercury's Jack Fischer.
Sharkbyte Art Public Art Exhibit and Auction: In Summer, 2001. I participated in the "Sharkbyte Art" exhibit, where artists painted 6-foot fiberglass sharks that were then displayed on the streets of San Jose. After the exhibition, the sharks were auctioned off to benefit charity. My shark was auctioned to Hoge, Fenton, Jones & Appel law firm (proceeds going to benefit breast cancer) where it now hangs in above their main lobby on Market Street in downtown San Jose.