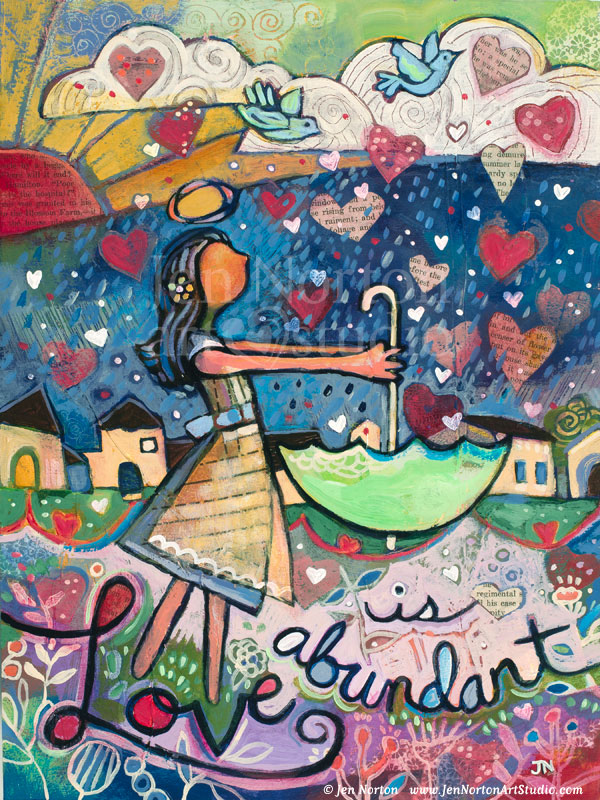 Valentine's Day is just a month away, and I have to admit it's not one of my favorites. Not that I don't appreciate love, or the efforts of the somewhat ambiguous St. Valentine, martyred in the 2nd century by the Roman emperor Claudius for, among other things, assisting persecuted Christians in getting married. It's just that the day always seems so fake to me. Overpriced red roses, pre-written sentiments, the expectation that if enough demonstrations of love aren't expressed on this day, you've missed out somehow. I don't like to be told what to do or how to feel. And I already eat too much chocolate and I don't wear much jewelry. The traditions that have formed around this day don't interest me. I'd rather read a book.
But that's my perspective on something that brings others great joy. And that's the funny thing about Love…REAL Love. It's always there, constantly surrounding us, always ready to rain down on us the minute we're open to it. But often we're not. Love is always an abundant commodity. Our ability to see it, accept it, believe that it is really meant for us, is often clouded. We hide under our "umbrellas" of fear, judgement, past beliefs. But while this shield might keep the rain out, it will also hide the sun.
What happens if we change our perspective, turn our umbrella upside down, so to speak? Then it becomes a vessel to gather all the Love we want. Sure some rain my fall. Your hair might get wet or your mascara run. But if we have the courage to accept all that is ready and waiting for us, our cup just might runneth over.
Matted prints made in my studio are available here.  Or you can purchase a set of signed Art Cards here.
This original is 9 x 12″, Acrylic on cradled birch wood. To inquire about the original, please contact me directly.