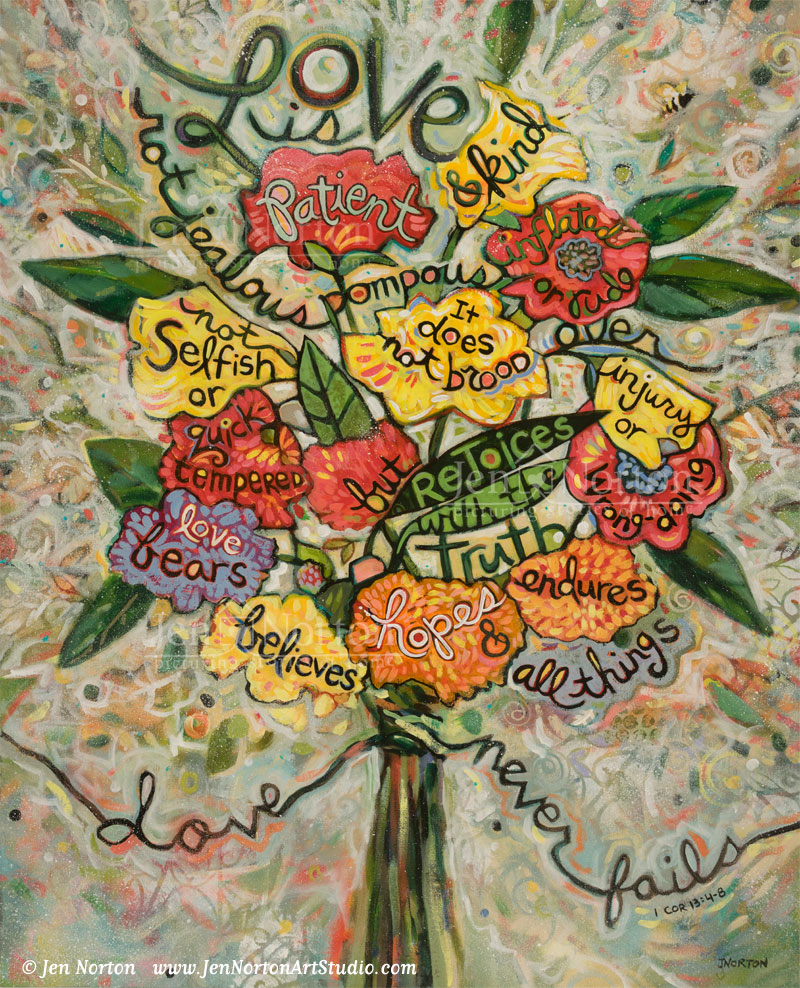 First Corinthians, verse 13. We all know how this one begins… Love is Patient, Love is Kind. If you've ever attended a Christian wedding, you've probably listened half-heartedly to this reading. And that's the challenge of this verse… to not LIVE it half-hearted. To not practice it only with the people it's easy to love, but with those we're not so crazy about. Whole-heartedly.
How would your life change if you consciously chose not to be jealous of others? How would our society be different if no one ever acted selfishly or in a quick-tempered manner (even on social media)? Would you feel more loved if someone let go of a grudge held against you? What if we sought truth, cared about the "whys" behind the "whats"? If you hold someone else's well-being as equal to your own, you do bear, believe, hope and endure all things for the purpose of Love. Jesus did it best. We should at least try.
Like a flower, Love can be easily crushed by a harsh word. It can wither and die without attention. But it can also be nurtured, gathered, and grown. Give it daily watering and pruning, action and prayer. The harvest is beautiful, something to be held in adoration.
Love is patient, love is kind.
It is not jealous, is not pompous, it is not inflated, it is not rude,
it does not seek its own interests, it is not quick-tempered, it does not brood over injury,
it does not rejoice over wrongdoing but rejoices with the truth.
It bears all things, believes all things, hopes all things, endures all things.
Love never fails.
(1 Cor 13: 4-8)
This original painting will be available through The Sacred Art Gallery after January 23, 2017.
Art reproductions and other gift items are available in my Etsy store and in my Pixels.com store here: