Today's Advent Art Meditation is from John 9:1-7.
We live in the disillusion that we know what's best for us. Unfortunately, God's plans do not revolve around our convenience.
My brother was born with Down Syndrome, a mental disability caused by a genetic mutation. I'm sure he is viewed as "less than" by some. He's someone many assume social services will just care for, unimportant and even in the way of the rest of us. If you walk anywhere public with him, you feel heads turn or see children whisper. He stands out. He doesn't fit the mold of how things are supposed to be. He's a passing curiosity.
He was born the same year my dad was diagnosed with a dangerous brain AVM. There were a few "disabilities" in our household in 1975. It would have been easy for my mom to be drowned by self-pity and sorrow and no one would have blamed her. Certainly not the doctor who suggested she just put her baby in an institution right away. Fortunately for all of us, my mother has always been gifted with the ability to trust in the bigger picture. She absolutely trusts that God's plans are revealed over time and that angels are always watching over us. (My sisters and I have challenged the angels a few times and lived to tell, so it must be true!)
Through my brother's life, my mom found her calling in teaching and helping other families with disabled children. Through her greatest challenge came her greatest strength. She gave families sight to see potential when they felt blind and hopeless. I have no doubt she has helped others walk farther in their own faith. In doing so, hers has been strengthened.
In today's reading, Jesus didn't just slap some mud on the blind guy and leave. That would be a great story on its own, but there's more to tell. The newly-sighted man became stronger in his faith as he defended himself to the Pharisees. At the beginning of the story, he tells the questioning authorities he does not know where the man who cured him is. Then he says he must have been a prophet, then a man of God. In the end, Jesus returns to him and reveals that He indeed is the Son of God. That's when the man truly sees. People wondered if the blindness was the result of sin, but Jesus' response tells us what God thinks of disabilities: God doesn't make junk and no life is unimportant. He replies, "It was no sin…it was to let God's works show forth in him."  In Jesus' eyes, things look different. Through the blind man, Jesus teaches us to see.
Perfection is overrated and can grow boring. It's the imperfections, the space between notes, the transition from dark to light, that moves us. Turns out my brother is exactly who he's supposed to be.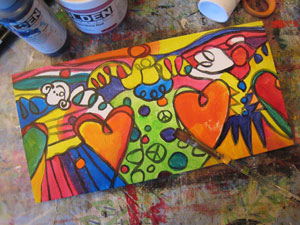 White light is made up of all possible colors blending together. In today's painting, the "white" angels are created over vibrant underlying color. All the irregular blotches and lines of color are what give life to this illustration. Where the colors all run together, we get angels.
You can purchase this artwork here.
And for you music lovers, here's a YouTube clip of Amy Grant singing "If I Could See What the Angels See". Have a great weekend…