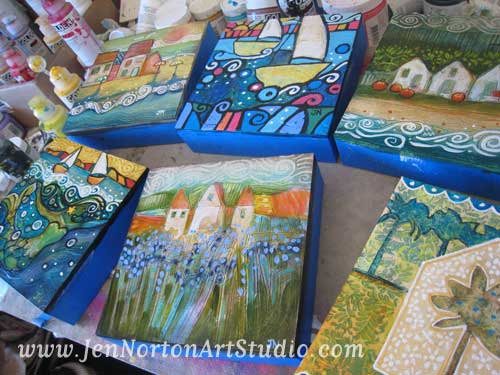 Summer break is two weeks shorter for us this year since our daughter will enter a school that begins earlier. I've been taking care of school supplies, uniforms and, on top of it all, cleaning out my home for a block rummage sale. I bet I'm not the only one out there with those tasks at hand.
Thankfully, I haven't avoided the studio altogether. I've also been busy on some new small paintings…lots of  6 x 6″ wood panel acrylic pieces. I love these because they always provide an element of surprise. I begin by coating the wood with gesso and then carving into it as it dries. I add washes of color to enhance the texture of the gesso. As it seeps into the carved lines, the image emerges! I do very little planning and just explore ideas. Some are moody, some are lighthearted…each one developes a personality of its own.
If you'd like to see these pieces in person, I will be bringing them to my fall shows, beginning with my next event at Wisteria Antiques & Gardens in Soquel, CA on August 18 & 19th, 2012.
I've also been beefing up my online offerings on Fine Art America (art prints in custom sizes and formats) and my Etsy store. I was also featured on Turning Art, a service which lets you rent art prints and apply your rental price to any originals you purchase. It's an interesting idea!
All the details for this, and other events, are on my show schedule page. I hope to see you this fall!