During winter months we like to make home-made soup. We roast a chicken for dinner and then make stock from the leftover bones, adding vinegar to help draw out the nutrients and boiling them on a low setting for about 4 hours. (helpful hint: I leave the stovetop light on to remind me to turn the stove off before I go to bed. One time I forgot to do this and…well…it wasn't pretty and it didn't smell too good either!)
The following day, use the stock to make any kind of soup you can dream up! One of our favorites is my husband's Roasted Tomato soup. It's a great use of our crop of late-season fall tomatoes. I decided to use the recipe as my subject for a new painting, using an old painting as my "stock". Like making a soup base, creating art over an old piece is very rewarding. You don't have to confront that scary "white paper" for one. There's already some flavor to start with. And like finding a tasty use for those aging vegetables in your fridge, recycling something that's been hanging around a bit too long can prove healthy and satisfying. I liked parts of this old painting, but it had outlived its welcome in my repertoire and had not yet found a home. It was time to transform its tasty colors and textures into a new recipe.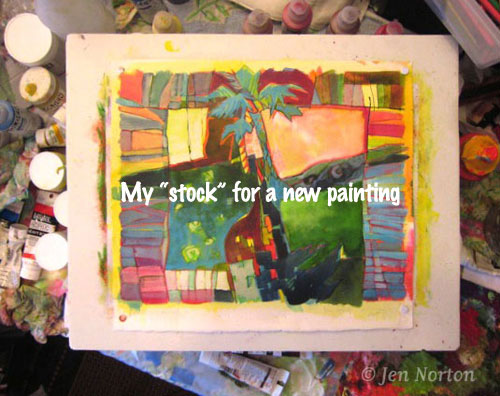 First, I coated the existing piece with acrylic medium. This is because the original was done in watercolor, and I didn't want it to bleed into the new work. Since I was going to be working in acrylic, it made sense to seal it with the same medium. After it dried, I painted my new composition over the old and started filling in shapes with color, leaving some areas to peek through.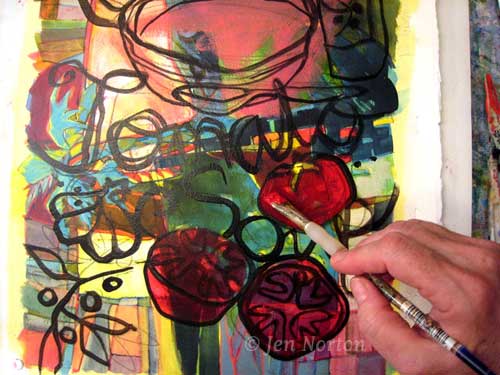 Having color and texture already on the page makes this process fun. Like an extra pinch of chili pepper, tiny tasty surprises peek through that you couldn't reproduce if you tried. I tossed in some colored pencil texture, a dash of paint flicked from a toothbrush, and Vwa-laah…Tomato Soup!
Tastes great with grilled cheese…hmmm, might have to paint that next!
Tomato Soup is framed in a dark wood frame to an 18 x 22 size, ready to hang. $400. Contact us through the email form on this site if you are interested in this piece!