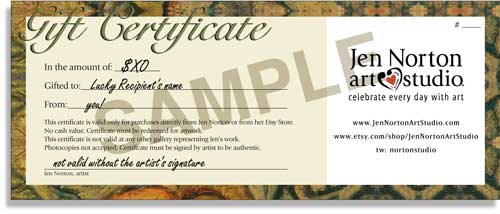 Would you like to give someone my art as a gift, but don't know what to choose? Why not get them a Gift Certificate instead? You can buy Gift Certificates either here or through my Etsy store. I have them listed in $25, $50 or $100 denominations, but you can contact me for a custom amount.
Gift certificates are mailed to the buyer, or directly to the recipient if specified at checkout. Each certificate has a unique code that allows the recipient to redeem it online through my Etsy shop. I can leave the "to" and "from" sections blank for you to fill in, or you can leave me a note in the "message to seller" box on checkout and I can fill it in for you. This item will ship via USPS first class mail and fits in a business-sized envelope.
Please note
• There are no refunds or returns on gift certificates.
• Gift certificates cannot be exchanged for cash (no cash value).
• Gift Certificates are not valid at any other gallery or with any 3rd party representing Jen's work.
• Your official Gift Certificate will be mailed to you. Photocopies, digital reproductions or printouts of the sample on this page will not be accepted.