I recently had the privilege of creating a special home portrait for a patron in my hometown. I thought I'd share my progress on how to paint a house here.
We began with some sketches of her ranch-style home, which were then transferred to the canvas. I start all my work with bright, wild colors. This adds  a spark of life to the final piece as bits and pieces of the bright color pop through. If anyone came to check on my progress at this point, they might be a little worried!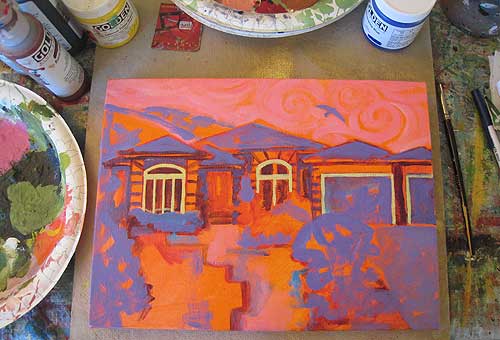 Next I begin to add some of the "real" colors and neutral tones. There is always a mix of many colors in nature. For example, something green usually contains all kinds of blues, yellows and especially reds. I rarely use any green right out of the tube.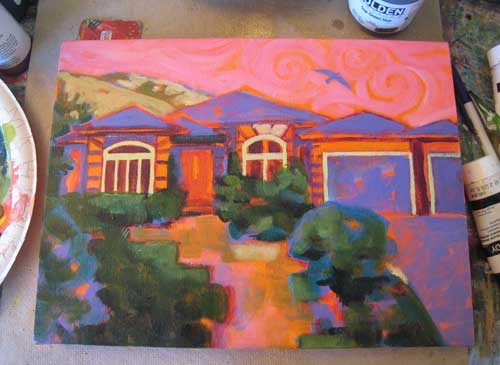 Finally, I work on the balance of neutrals. In this case, I wanted the emphasis to lead up to the front door, so I used warmer tones in the path which echo in the door windows and golden California hills behind the house. Like green, using lots of colors in the neutrals adds interest and life to the colors.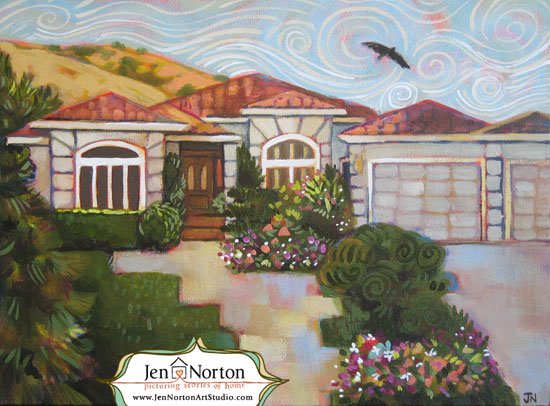 My home portraits make great gifts too! Let me know if you'd like me to capture your special place in art!