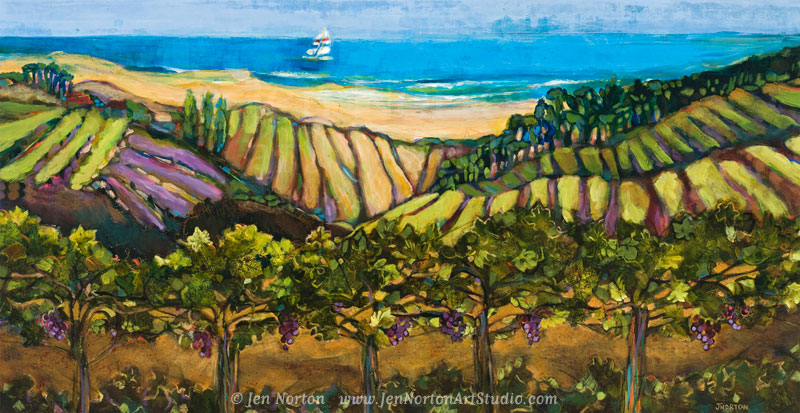 I have a never-ending stream of ideas running through my head. Sometimes it's a good thing, or even entertaining. Sometimes it's a stumbling block that keeps me from moving forward.
I've always loved pattern. Pattern takes all that chaos and puts in into some kind of pleasing order. As a designer, I always preferred brochure design the best because I could take words and pictures and make something orderly and logical out of them. In painting, I have much more freedom and often too many possibilities, making it hard to start. Thankfully, I have found ways to jump that hurdle. This is how I tackle a painting:
Stage 1: The Anxiety Stage
1. Develop a concept, sketch or at least some basic idea of where I want to go.
2. Don't think about that scary blank canvas. Just start putting stuff on. I have evolved my painting style specifically to move me out of anxiety and into action. I embrace the chaos.
3. Slowly start to refine large shapes, color themes. I start to tame the beast, which moves me into…
Stage 2: Conflict Management Stage
4. As the large shapes take form, I break them down into smaller areas, make decisions about which will be light or dark areas, develop the "story" of the painting. I have learned both from teaching art and making art that art doesn't lie. It can't. It's creative, from the Creator, pure love. If you make something you truly love, it is truthful, even if some don't understand it. This is the stage where the rubber meets the road and I use my technical skills make life or death judgements. I should note that this could easily be an area full of self-criticism (I'm not good enough; what if they find out I really don't know what I'm doing?). All par for the course in the creative process. I have learned to block this out. This is fear, not love. By stepping way from emotion and returning to my practiced skills, I can walk through this wall.
Stage 3: Euphoria
5. This is the stage where I can get lost in details for hours, adding texture, refining colors…all the romantic, emotional qualities that make the piece uniquely mine. I am mesmerized in the making of patterns that have formed from my earlier chaos. This is the stage most non-artists think we makers live in all the time. No, you only get to come here after going through the other stages. Sometimes Stage 1 & 2 can flow more quickly…say if you've been divinely inspired. Most of the time, you've got to do the work. And yes, art is work.
Art is a bit like life, don't you think? If we all had the chance to make more art, maybe we'd be better at life. I'll be showing some of my latest Work at my next Open Studio on May 12 & 13, 2012 and I hope you can come.
The piece above is a sample of one of my paintings…filled with the patterns of the vineyards that grow in the Santa Cruz Mountains near me. This piece is titled, "Coastal Pinot and Chardonnay" and is being used by the Santa Cruz Chamber of Commerce as their 2012 graphic. With coastal fog and a warm climate, the Santa Cruz mountains are known for their Pinot grapes…and "Chardonnay" refers not to the grape, but to the boat passing by…the Chardonnay Cruise that runs along the Santa Cruz Coast!
You can purchase a print of this artwork here. Please contact me directly to purchase the original.