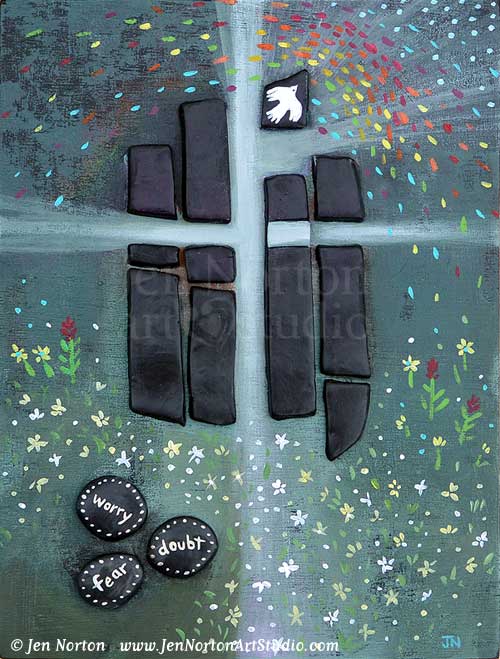 "Lay Down Your Burdens," Polymer Clay and Acrylic on Plywood. $250
Do you ever hold on to fears, hurts and pains like they're precious jewels? Catch yourself telling your troubles to friends who've heard it all before? Or think you're not worthy of something better? Do you carry your worries around day after day, piling them up like a monumental wall to hide behind? Have you forgotten what it's like to live without all that weight?
Aren't those stones getting awfully heavy?
Don't beat yourself up over it. It's part of the human condition, an addiction that first took hold probably in your early teens, just as your ego was developing. But God came in human form to make sure we knew that wasn't the end of the story. We are more than those stones. There was a time before we picked them up. With a little bravery, we can put them down and be free again.
It's good to stand among those dark, cold stones and acknowledge their presence. But maybe we can begin to see that the there are cracks and spaces and imperfections between them. And maybe if we view those cracks from just the right spot, we'll witness a new perspective. Maybe we'll see the light of early dawn streaming through the cracks.
Set down your stones on the dark, wet grass and trust that they will stay put. For now, just enjoy the light. Soak it in, let it disperse through you, let all the colors of the rainbow scatter forth from your soul and see what grows where there once was only darkness.
Today is Good Friday, the day the flesh was broken and the stones were piled high. But in a few days, everything will change and the Light will come.
Happy Easter.
Contact me to purchase this original artwork.