In the Catholic church, and in many other Christian churches, we are currently in the season of "Lent." It is a time of reflection and repentance to prepare for Easter, the promise of new life. It is a time to reflect on all that we have, and have done; all that we have built up or torn down; a time to take stock. It's a time to remember that in the end, everything of this world will pass away and all that will be left is How We Loved. God didn't just leave us with an abstract concept. He sent His Son to us. Jesus experienced the worst of human brokenness…temptation in the desert, betrayal by a close friend, taunting and fear, and finally a humiliating and painful death. Whatever you may be going through or whatever difficulties you may be facing, Jesus gets it. He lived it. And he died to it. He was bread-broken, blood-shed, self-sacrificed.
But wait, there's more… Easter! New Life. The Way through. Death was not the end of the story. Jesus escaped its throes. And he didn't just zip up to Heaven and let an angel tell us about it. He stuck around for a while and made sure there were many eye witness reports and the fervent acts of the early apostles to prove it. He even included a "doubting apostle" for those of us who aren't quite able to believe it all by faith. God thought of everything…and so we inherit everything, if only we believe. If only we walk in communion with Him.
In church tradition, this is also to time for children to receive their "First Holy Communion" and for adults newly entering the church to go through RCIA (Rites of Christian Initiation of Adults). I have created some new artwork in my not-quite-traditional style to celebrate these events. Should you be in need of a gift, or just an inspirational piece for your own home, I would be honored if you chose one of my pieces!
"The Sacrifice" (above) is available in the following formats through these links:
• matted and unmated prints on paper
• 8×10 print on wood
• pocket prayer cards with choice of Anima Christi, Our Father or a Communion Prayer on the back
• customizable prints and cards
I have created two images expressing the simplicity and joy of Jesus' welcome, perfect for your young boy or girl. The originals are available. Acrylic on cradled wood with painted sides, 8×10″, $180 each. Contact me directly to purchase the originals.
First Communion artwork for boys and girls are each available in the following formats:
• Communion Boy matted prints or customizable prints
• Communion Girl matted prints or customizable prints
• Communion Boy prayer card or Communion Girl prayer card (with Our Father on the back)
• Customizable party invitations, coordinating postage and stickers for both boys and girls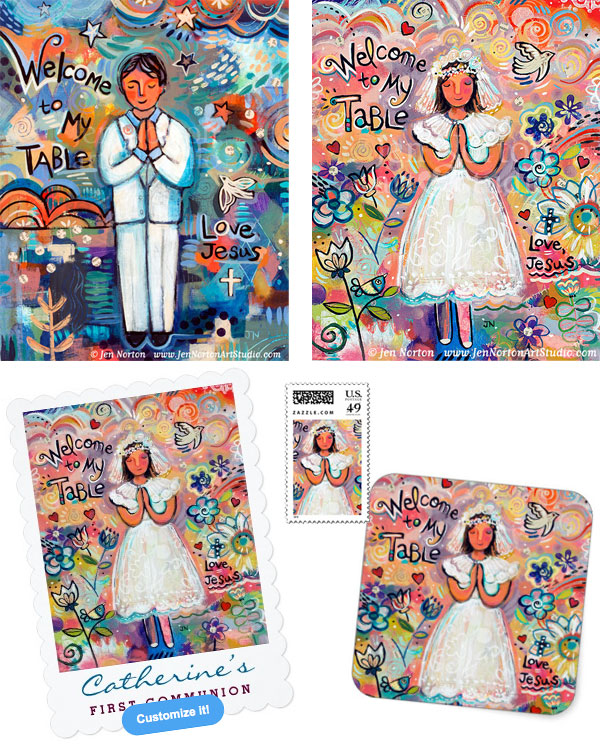 May you walk in communion with the promise of our Lord.