Everywhere I go, people keep asking if I'm ready for Christmas. I am. What I'm not entirely ready for is for my child turning 18 on Christmas Eve! Boy, did those years go fast. Still, as my business grows, I know it's time for her to fly and find her own way to make her dreams come true.
Looking back over this year, I thought I'd share a few fun dream-come-true moments from my 2015 art life. First, a thank you to all of you who purchased pieces during my recent 50-50-50 sale. Many works found new homes and because of you, I was able to donate $327 to Catholic Relief Services. The poor and vulnerable people of the world thank you too.
So, a few highlights from my art life: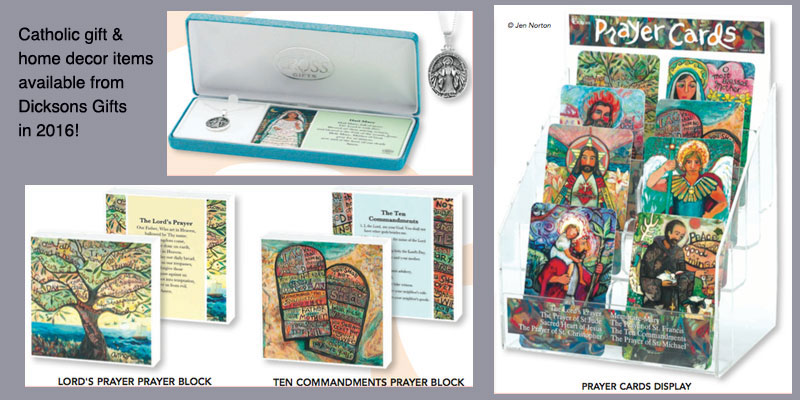 • I had the opportunity to work with Dickson's Gifts this year when they licensed several of my existing pieces (and commissioned a few others) to create a new line of Catholic gift items. These items will be available to the trade beginning 2016, so you might see them in stores later in the year. More on that as it unfolds…
My artwork appeared in several editorial publications and events all over the world this year. Some of these appearances include…
• "Hail Mary"used in a book cover design for Word by Word by Sarah Reinhard, published by Ave Maria press
• "Beloved St. Francis" graced the pages of the September 2015 issue of Tui Motu Magazine in New Zealand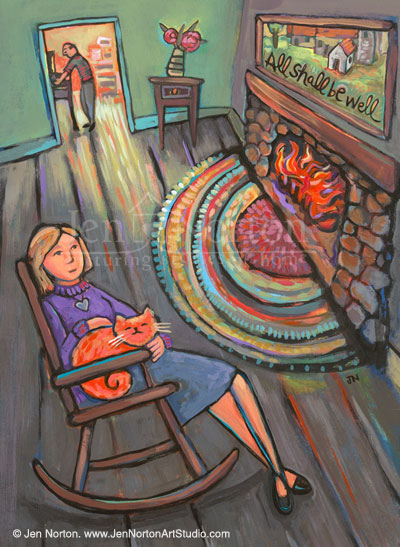 • Franciscan Media hired me for a commission for a fictional story about a woman finding kinship with St. Julian of Norwich in the November 2015 issue of the St. Anthony Messenger
• Our newest Saint, St. Junipero Serra, traveled to the pages of the Winter 2015 edition of Catholic Extension Magazine. I was originally hired to do a cover image…but then got pre-empted by the visiting Pope! Can't fight that…
• I also created special St. Serra prayer cards for the San Carlos Cathedral in Monterey, CA to be given at an event surrounding his canonization.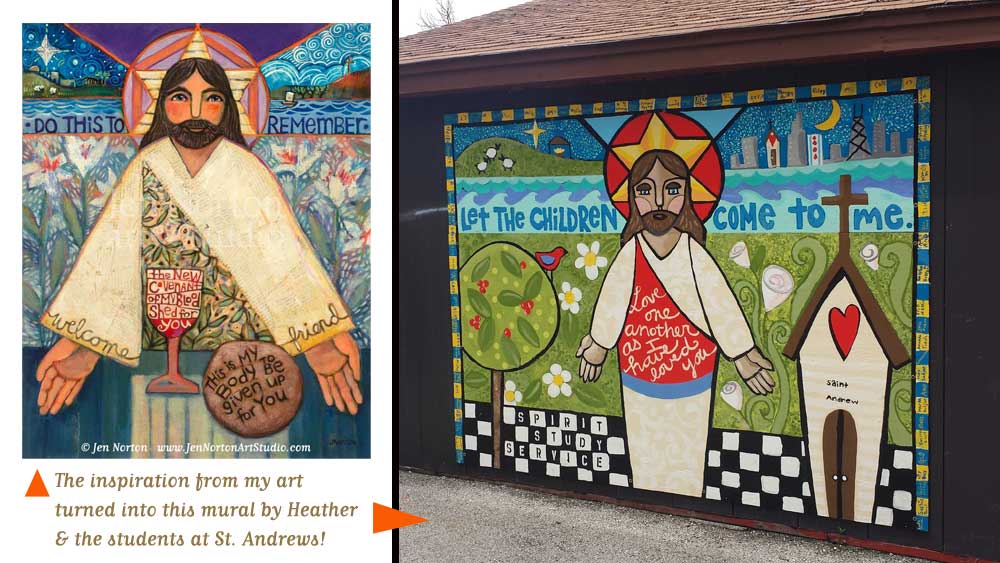 • Over the summer, Chicago area artist Heather Gentile Collins used my "Sacrifice" artwork as inspiration to create a mural in collaboration with the school children of St. Andrews Parish.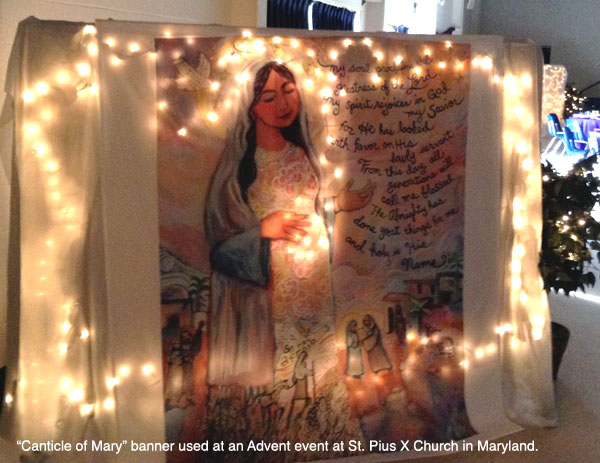 • St. Pius X church in Maryland ordered a "shower curtain" from my Fine Art America store to use as a banner at their Advent luncheon. (I was happy to find out no one was really showering with Mary!)
There were many more uses of my work at church events and on church bulletins and you have all kept me busy fulfilling lots of orders on my Etsy store. But 2016 is already rushing in over here and as soon as the Christmas tree comes down, I'll be working on inventory and new art to take to the LA RECongress event in Anaheim in February! I have enjoyed all the opportunities and people who have come my way and hope to continue on this path for another year…
I wish you all a very Merry Christmas. Whether or not your wishes came true in 2015 or flopped spectacularly, know that you are loved right in this moment just as you are. If you have managed to lighten someone's day along the way, even better.
Happy New Year!
Jen
*all artwork was used with permission on these projects