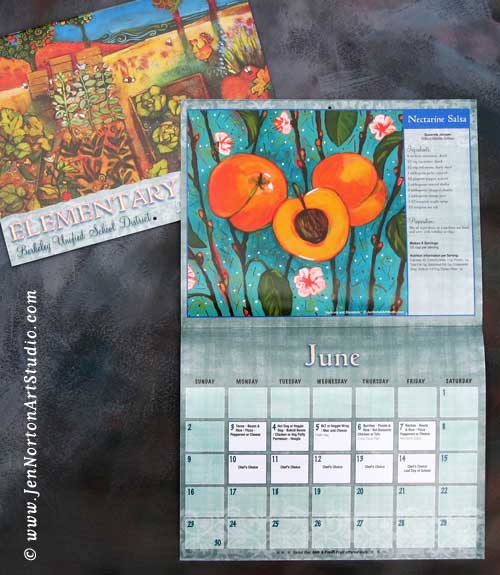 I wanted to share with you a recent design and art project I completed for the Berkeley Unified School District in Northern California. In an age of school budget cuts, Berkeley Unified has remained committed to providing its students with nutritious, fresh foods, and they produce a beautiful art calendar for their families each year. That's where I come in…I've been lucky to be the artist and designer to put this piece together for the last two years. This calendar features my artwork as well as healthy recipes from the students and staff of the BUSD. I just got my box of samples, so I thought I'd share it with you today!
Interior Calendar Images
The original food paintings below are currently available to purchase or license. Contact me directly with your interest. Individual pieces are $250 each, 9 x 12″, framed acrylic on wood panel. The images are also available as matted art prints ($28). I've got four of them listed in my Etsy store… but just ask if you want one I have not yet listed.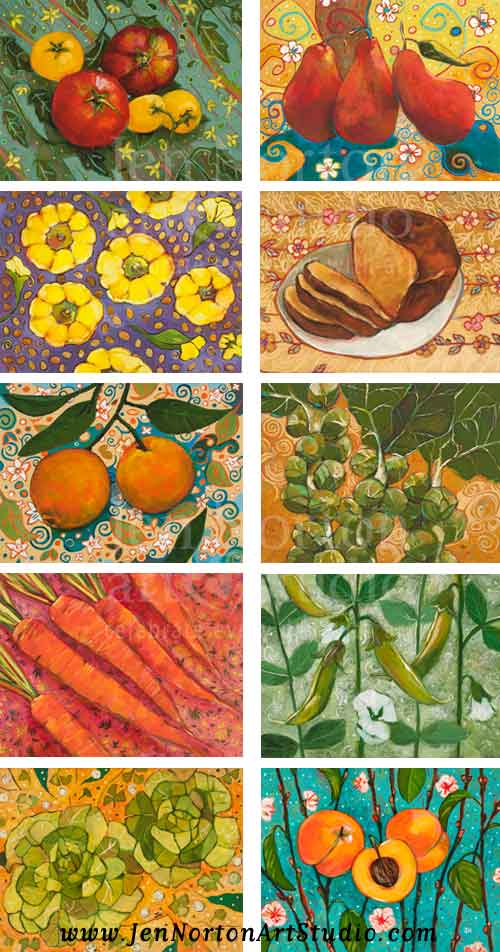 Calendar Cover Image
And finally, the cover image I painted is called "Bayside Gardens" and measures 24 x 24″. It is painted with Acrylics on gallery-wrapped canvas, and available for $950. Contact me directly to purchase or license this piece. It is also available as a matted art print ($28) or an aluminum Garden Charm ($45) in my Etsy store.